Daleys Fruit Tree Blog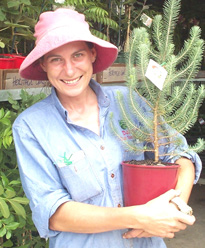 =========What's New:
After you place an order with daleys you now have the ability change your order 24 hours a day online until we send it.
Reduced Freight for North QLD Customers
eg Townsville, Cairns etc we have been able save your freight costs by 35% with one of our freight couriers.
===========
One of the most frequent suggestions we get as a nursery who sends fruit trees all across Australia is
"We love your plants and the way they get to us safe and sound but the freight and handling costs are too expensive when I am just ordering a few plants"
Firstly we would like to say Yes we have taken note and here are 2 decisions we made to reduce this cost to you.
1. Reduced Freight Costs:
We designed 2 new boxes a small and a medium box which is lighter weight and less volume
2. Reduced Handling Costs
We use to have a $12 Handling fee for all fruit tree orders under $100 and FREE for orders over $100 because of the following jobs and material costs.
- Daleys sends paper catalogues out to customer addresses.
- Daleys answer Phone/Fax enquiries about fruit trees.
- Daleys Phone/Fax Customers back when fruit trees are ready for sale.
- Daleys calculate and Quote Freight costs
- Daleys Phone/Fax changes to order after it is placed. (Not all orders)
- Daleys Check all plants for quality
- Daleys Pack plants + Packing material costs.
- Daleys prepare paperwork for freight companies
- Daleys answer follow up enquiries and give growing advice.
But recently we have reduced the handling fee to
$4.50
for orders fitting in our small box and
$6
for orders fitting in our medium box and
FREE
for orders over $100 and the reason is because most of our customers (like yourself as you are reading our blog) prefer to order online which means the process above now looks like this:
- Customer finds plants they like on the web.
- Customer inputs their email and mobile number to be notified when plants are ready.
- Customer places order and knows freight.
- Customer makes modifications after order is placed. ( NEW )
- Daleys Check all plants for quality
- Daleys Pack plants + Packing material costs.
- Daleys auto Lodge Freight paperwork
- Customer asks question on Daleys Fruit Tree Forum for best growing methods in their area.
- Daleys Sends customer Gift Voucher after 3 months and asks customers to give us feedback.
Below is our video on how we pack our plants
Labels: New to Website
My first Pomegranate Galusha Rosavaya (Best Tasting Fruit) Flowers after only 1 year. Huge Flowers and rich orange,red colour.
In the subtropics where we don't get the right chill hours you can still grow apples you just need the right varieties. I have chosen the Dwarf Dorsett Golden Apple Tree which is already fruiting in my first year since getting them from Daleys.
Apples like cross pollination so I also got the subtropical variety called the Dwarf Tropic Sweet Apple Tree.
My Babaco after many flowers dropping off is finally nursing a babaco or champagne fruit through to completion. After 3 years I am delighted.
I have already repotted the babaco.
The Gulf Ruby Plum gave me fruit last year and looks like it won't disappoint this year. I noticed last year the fruit was on the trunk but this year it is on the branches. Perhaps it likes to fruit on new growth.
I have about many different varieties of blueberry plants for cross pollination. My favourite variety is misty for it's size but some other varieties are better in taste. My advise is don't just get one variety.
The Sugar Herb Stevia only has a limited lifespan but it is easy to uproot a portion of the main plant and then replant as I have done in my Black Sapotes pot. Stevia is sweet and has a strong minty aftertaste.
The panama berry has covered itself into flowers and the smell is overbearing when you are close to this plant. The flowers, fruit and leaves omit a fragrant smell. Best of all it has a long fruiting time except for winter.
My
Florigon Mango Tree
is grafted and wants to fruit straight away. By keeping this flower it will dwarf new growth and hamper the size of next years crop. Regardless I am going to try and get 1 mango from this baby mango tree.
My coffee plants which I am growing in pots have finished producing their red berries and are pushing some new growth as the weather heats up. I am expecting them to break into flower in summer.
Daleys Dwarf Black Mulberry Trees are the best tasting variety you will get. Far better tasting then the sometimes acidic tasting ones you find in parks throughout Brisbane
This Bowen Mango Flower has got a fungus from the rain we had in Brisbane a few months ago. My best course of action is to cut all the flowers and hope I get more flowers. Then spray them with copper spray and anthracnose spray
I haven't had too much luck with my Red Dragon Fruit cropping perhaps because I haven't chosen a sunny enough position but it is looking healthy. I have recently seen a few dragon fruit farms on the outskirts of Brisbane.
Labels: babaco, blueberry, coffee plants, dragon fruit, dwarf black mulberry, mango, Panama berry, plum, pots