Daleys Fruit Tree Blog
Think of 125 000 people who love their gardens at one venue and you have one of the top 5 flower festivals in the world happening in
Melbourne
this week. (2nd April 2008)
Now I understand that flowers look good and smell good but they do shrivel up and die. For those of u
s with only practical bones in our bodies we often wonder
"is there more to flowers?"
So what would happen if you had a small
"flower sized tree"
that you can grow in a pot or small garden with rich coloured fragrant flowers but after they shrivel up something practical starts to happen. The flowers transform into fruit.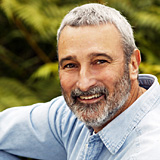 Don Burke
knows what I am talking about and this year at the festival he is going to show off 25
Dwarf Fruit Trees
from Daleys. So if you are there make sure you say hello.
Don Burke's Dwarf Fruit Trees from Daleys at the Festival.
Dwarf Peach tree
- Beautiful spring flush of pink flowers
Dwarf Coffee Tree - Catui
- Flowers profusely in summer with bright white frangipani smelling flowers. Often you can smell it from 5 meters away.
Acerola Cherry Tree
- Dark Pink flowers 1cm in diameter
Dwarf Mulberry Tree black
- The first sign of life after winter is the entire tree covering itself in white flowers. Majestic to say the least.
Blueberry - Sunshine blue
- Translucent elongated flowers.
Dwarf Mango Tree - Irwin
- Poignant big flower heads with tiny orange flowers that attract bees.
Dwarf Apple Tree - Pink Lady
- Clusters of pink flowers
Dwarf Citrus
- often year round flowering of white fragrant flowers.
Feijoa - Duffy & Apollo
Dwarf Mulberry Tree - Red Shahtoot
Dwarf Orange Tree - Cara Cara Blood orange
Cinnamon Tree
Dwarf Lemon Tree Meyer
- The one Don has should have a few lemons on it.
Fig - Piconi
Fig - White adriatic
Finger lime
Dwarf Macadamia Tree
Dwarf Calamondin
Ceylon Hill Gooseberry
Dwarf Mandarin Tree - Emperor
Dwarf Apple Tree - Granny Smith
Pomegranate -Elcite
Hawaiin Guava - Pink Supreme
Miracle Fruit
Dwarf Avocado Tree - Wurtz
Dwarf Persimmon - Ichikikijiro
More Information


Melbourne International Flower Show



Labels: dwarf fruit trees
Here is my 1 year old
Carambola Kembangan
. It is nicknamed the
Star Fruit Tree
because when you cut the fruit it looks like a star.

Mine is a grafted variety which I am growing in a pot. I am amazed how quickly and prolifically it is flowering at the moment. It has tripled in size since I got it and is one of my best performers so far second to my
panama berry
.
It is twice the price of a
seedling Carambola
tree
but life is too short for seedling fruit trees as they take much longer to fruit.
One thing about the leaves is that they always seem to be drooping. Some people make the mistake of thinking it is laking water but this is not the case and is their natural position.
I have eaten a few star fruits in my life and by far the best tasting ones were the
well known varieties
. They are far more juicy and the flavour is less watery and fibrous.
Another thing about star fruit is they really do crop well. They do come into Australian supermarkets on occasions but usually not for long and you really do pay for them.
Another benefit of getting a well known variety such as the
Grafted Kary Star Fruit
and my
Kembangan Star Fruit
is that you only need one. Some varieties of Star fruit will flower but not fruit due to needing another variety to cross pollinate with.
More Information on the Star Fruit (Carambolas)

Buy Carambola Star Fruit
- Mail Order to your door
A picture of them fruiting from Daleys Orchard

-

Amazing how well they crop




Forum: Star Fruit Discussion - Pollination Problems

-

Problems with flowering but not setting fruit for different varieties.




Plant Tag: Carambola or Star Fruit

-

Find out about cultural notes, soil types and ideal conditions.



Labels: carambola, star fruit
This Sunday I visited
Northey Street City Farms
Organic Market. There were lots of people there who packed the very shaded and cool carpark to buy fruit and vegetables.
What makes it different to all the other fruit and veg markets is that while you are there you can walk through the farm which produces some of the fruit you buy.
There are well developed fruit trees and booming vegetables gardens all grown using proven permaculture techniques. Most of the fruit trees and vegetables that you see growing you can then buy from Edible Landscapes Nursery which is also part of the markets.
The kids have plenty of breezy, shady places to play and the chicken pens keep them transfixed.
More Information
Edible Landscapes Nursery
Labels: permaculture